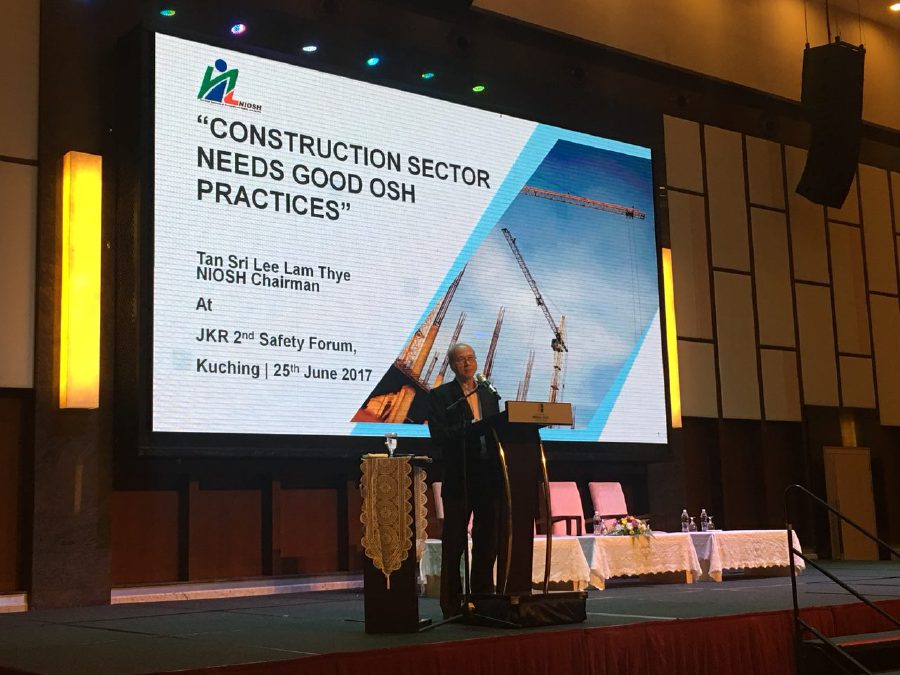 KUCHING: Industrial accidents can only be reduced and avoided if all quarters do away with the 'hangat-hangat tahi ayam' (not following through) attitude towards the importance of occupational safety and health (OSH).
National Institute of Occupational Safety and Health chairman Tan Sri Lee Lam Thye said such "unhealthy habit" must be changed to avoid recurrence of the same incident in the future.
"One thing that I am very unhappy about is this habit of 'hangat-hangat tahi ayam' attitude.
"Over the years, these three words "siasat" (investigate), "kaji" (analyse) and "lapor" (report) will surface whenever there is a catastrophe or accident.
"After a while, issues beleaguering this mishap will quiet down. The same three words will resurface when there is recurrence of a similar incident.
"In the end, lesson was never learned. We must get rid of this bad habit," he said when delivering his keynote address during the Public Works Department (PWD) Second Safety Forum here today.
State PWD director Datuk Ir Zuraimi Sabki was also present.
The call for change, Lee said, not only meant for government agencies but also the private sectors and the people at large.
On a related matter, Lee said the increase in activities in the construction sector, which created higher risk over safety issues, was a call for action for developers to put in place hazard identification, risk assessment and risk control (HIRARC) principle in their operation.
"This will help workers and their supervisors to identify hazards and risks and find ways to avoid them," he said.
He said the latest fatal incident at a construction site at Lengkok Lembah Permai, Tanjung Bungah, in George Town on Oct 21 was another example where safety was taken for granted and was the result of poor OSH practices at worksite.
"There are others who do not want to invest in safety and health at the workplace because of the cost factor. But when accidents occur leading to either injuries or fatalities, such tragedies bring pain and agony especially to the families of the victims," he said.
Although the government authorities enact laws and enforce them, Lee said the responsibility for implementing a safety system at the construction site lied mainly with the main and sub-contractors.