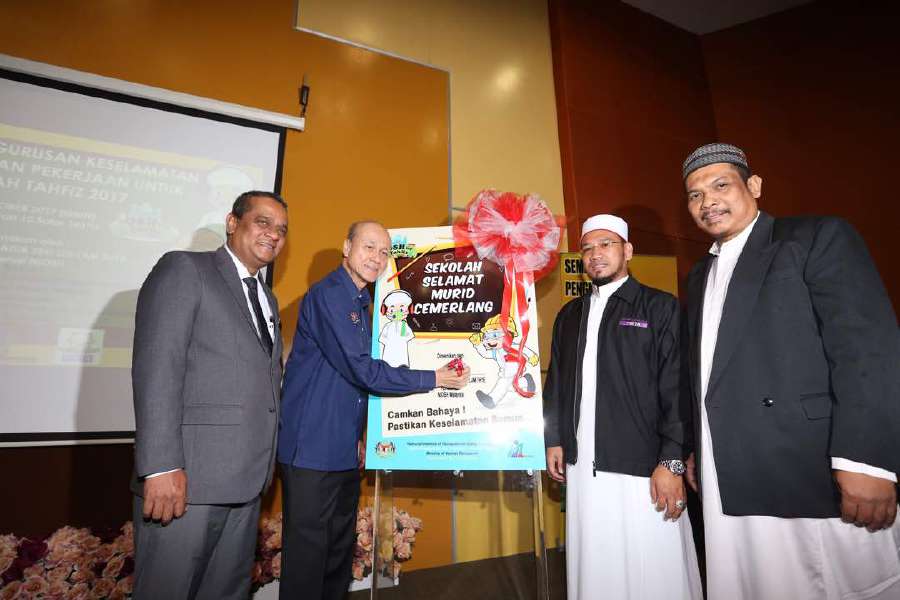 BANGI: A special guide book on fire hazards and risks for all tahfiz and state-run religious schools will be introduced by end of this year.
The pilot project will be a joint effort between National Institute of Occupational Safety and Health (NIOSH) and Selangor Tahfiz Al-Quran Institutions Coalitions (Pinta Selangor).
NIOSH chairman Tan Sri Lee Lam Thye said the institute and Pinta Selangor have visited five tahfiz schools in Selangor; Darul Quran Kuala Kubu Baru, Maahad Tahfiz Ummul Sungai Buloh, Maahad Tahfiz Ummul Qura Sabak Bernam, Maahad Tahfiz Nurul Huda Shah Alam and Akademi Tahfiz Al-Falah Rawang to assess the situation.
"Before releasing the guidebook, NIOSH, Pinta Selangor, together with other agencies will conduct further studies and assessment on the religious schools' structures, its problems and risks faced.
"We should not think or identify tahfiz are just religious schools. It is also a workplace as there are teachers working there.
"That is why we must be aware that every school and workplace has its own dangers and risks.
"Therefore, tahfiz operators are responsible to ensure that their premises are safe for occupancy," he said after launching the Safety and Occupational Health (OSH) seminar for tahfiz schools at its headquarters today.
The one-day seminar, which is jointly organised with Pinta Selangor and Fire and Rescue Department, will provide input on safety awareness, concept of hazard identification, risk assessment and risk control (HIRARC).
Present at the seminar were Pinta Selangor chairman Mohd Dailami Che Age and 89 tahfiz schools representatives from Selangor.